Monday, August 10 (Updated on August 14)
All members are restored and the planned outage is complete. Linemen were able to work to improve reliability and prevent future outages in the area. (updated at 10:35 am on 8/14)
We posted video updates on our Facebook page to keep members informed. Click the buttons below to view the updates.
Tri-County Electric Cooperative is working on system improvements to address the outages that occurred in the Keller area starting July 9.
Many members have asked for a root-cause analysis of the outages. Below is a letter from Darryl Schriver, General Manager & CEO, explaining the outages and what Tri-County Electric Co-op is doing to address the issue and increase system reliability. The letter was revised on August 13.
To complete necessary upgrades to mitigate future outages in the area, scheduled power interruptions may occur on the following days so our linemen may work safely in the area to make repairs:
     Tuesday, August 11, 8:30 am to noon - CANCELLED on 8/10: Crews are able to perform work without taking an outage
     Wednesday, August 12, 8:30 am to noon- CANCELLED on 8/11: Crews are able to perform work without taking an outage
     Thursday, August 13, 8:30 am to noon - CANCELLED on 8/12: Crews are able to perform work without taking an outage
     Friday, August 14, 8 am to noon - Crews will take the outage to make repairs
We will only take an outage in the area if necessary for crew safety. Please check our website and Facebook page each evening for updates regarding the next morning's planned outage. Members can also sign up to receive text and email notifications to stay up-to-date on the maintenance work and planned outages. Click here learn how to set up text and email notifications.
Below is a snapshot of the affected area for the August 14 planned outage. The area includes members in the Keller area, along Shady Grove Road, Bear Creek Parkway, Davis Boulevard, Continental Boulevard and  Southlake Blvd, Continental Blvd and Davis Blvd and McDonwell School Road.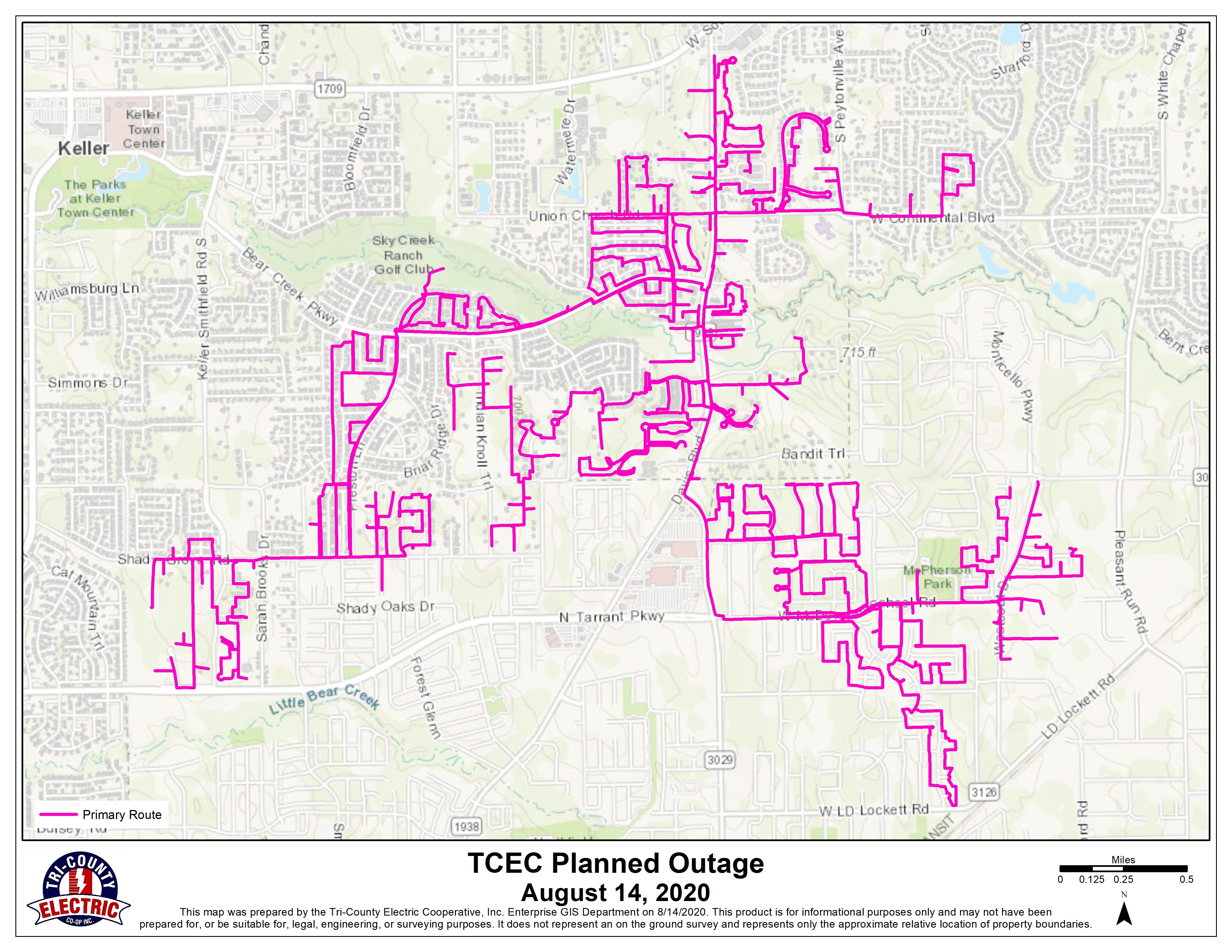 We do understand your frustrations with the recent service, apologize for any inconvenience, and are working to increase your reliability.
If you have any questions or concerns, please feel free to contact us at 817-444-3201. Lauren, with our community affairs division, will be available to members with other questions at 817-752-8226 or lbaccus@tcectexas.com, as well as Darryl Schriver at schriver@tcectexas.com.

As always, Tri-County Electric Cooperative strives to take care of our member-owners and provide the most reliable electric service possible. Your patience and understanding are greatly appreciated.